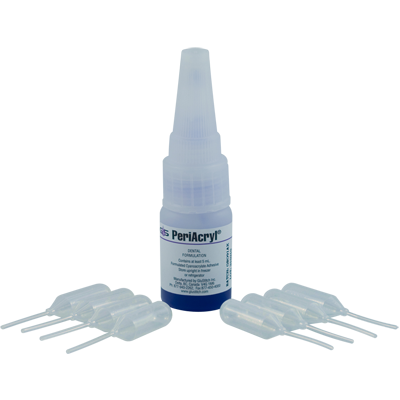 PeriAcryl® Oral Tissue Adhesive
PeriAcryl® is a cyanoacrylate tissue adhesive that has been formulated to perform in the oral cavity. PeriAcryl® is most often used as a periodontal dressing. It is a useful adjunct when performing such procedures as gingivectomies, mucogingival surgeries, flap surgeries, and biopsies.
PeriAcryl® Product Features
Two year shelf life in all formats
Competitively priced
Fast setting
Violet colouring allows for better visibility
User friendly delivery system
Available in violet or clear for anterior portion of the mouth 
PeriAcryl® Product Formats
The table below shows the PeriAcryl® product offering that is available in Canada. * Single-Use Kits and 2 mL Kits are only available through Citagenix Ltd.